Influencing senses
Implementing biophilic design in the built environment involves sensory perceptions that have a positive impact on your general well-being. The use of living plants, water, daylight and natural building materials ensure a greater connection with nature. But a view of nature and places that offer shelter can also positively stimulate the senses. Another option is to mimic a natural environment. The use of color plays a major role in the experience here. Natural colors such as green, brown and orange can give the same feeling as when you are in a truly natural environment. One of the first companies to realize the importance of colors was Philips. They discovered that exposing people to natural sunlight for 15 minutes a day could significantly improve mood and energy levels. They developed a blue lamp that provides the same energy as bright daylight. Other major companies such as Apple, IKEA and even Google have also incorporated natural elements into their products.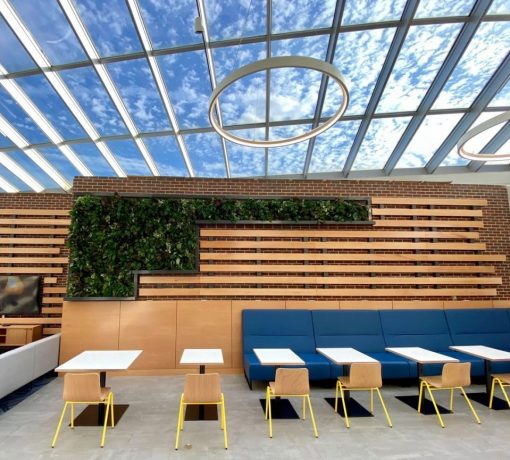 How to implement biophilic design into buildings?
Biophilic design can be implemented in many ways. For example, natural materials can be incorporated in the interior and exterior of a building. Also on a larger scale, such as urban planning, the attractiveness of nature can be taken into account in the design of public space. When people are asked to give an example of what they like in urban space, architecture almost always comes up. Yet architects and interior designers are often not yet sufficiently aware of the impact that biophilic design can have on the value of the building. Architecture can be used to evoke positive emotions in people and increase their sense of well-being.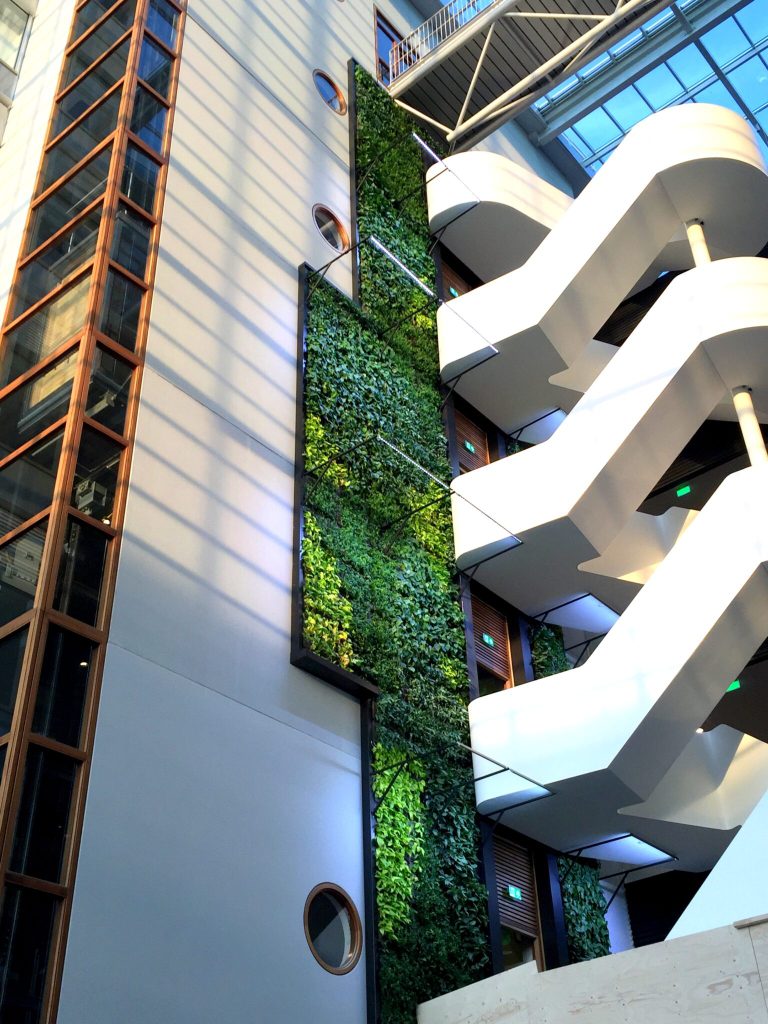 Depending on the context and the scope of the project, the importance or sequence of the benefits of biophilic design could vary. Different natural elements have different effects on people and the environment. Daylight, for example, is especially important for the brain, mood and sleep of people. Seeing and hearing water mainly has an effect on mental health and a sense of calm. Plants are suitable for reducing stress and improving the air quality of the environment, among other things. Since air quality is very important these days, living plant walls are becoming more and more popular. You see them popping up everywhere, both indoors and outdoors. Living walls are very trendy in office buildings, catering establishments, hotels and homes. It's a low-maintenance addition to any building and gives a nice, healthy touch of nature without taking up a lot of space.
Much can be achieved in urban planning if biophilic design is taken into account. By applying natural elements, the health of the city can be optimized in numerous ways. Planting trees, plants, the installment of ponds, green roofs and/or green living walls improves the environment of the city considerably. A green environment adds value, resulting in economic growth for the municipalities. Biophilic design also contributes to the improvement of mental health of society. Moreover, it is know that crime is significantly lower in neighborhoods with more natural elements.
Love for nature
A great thing about applying biophilic elements is that they can be tailored to each individual's needs. After all, don't we all prefer to live and work in a natural environment? Don't forget to think about the connection between people and nature when (re)designing (new) projects. Has your interest been aroused how we at Sempergreen bring back our love for nature in the built environment? Please take a look at our green projects for inspiration.
Photo credits:
Photo gallery: Gemeentehuis Dijk en Waard: Colt | Rechtbank Rotterdam: Lucas van der Wee | FOZ building: Adam van Noort
Banner photo: Hyatt Regency Hotel : Wouter van der Sar
Other photos: Sempergreen