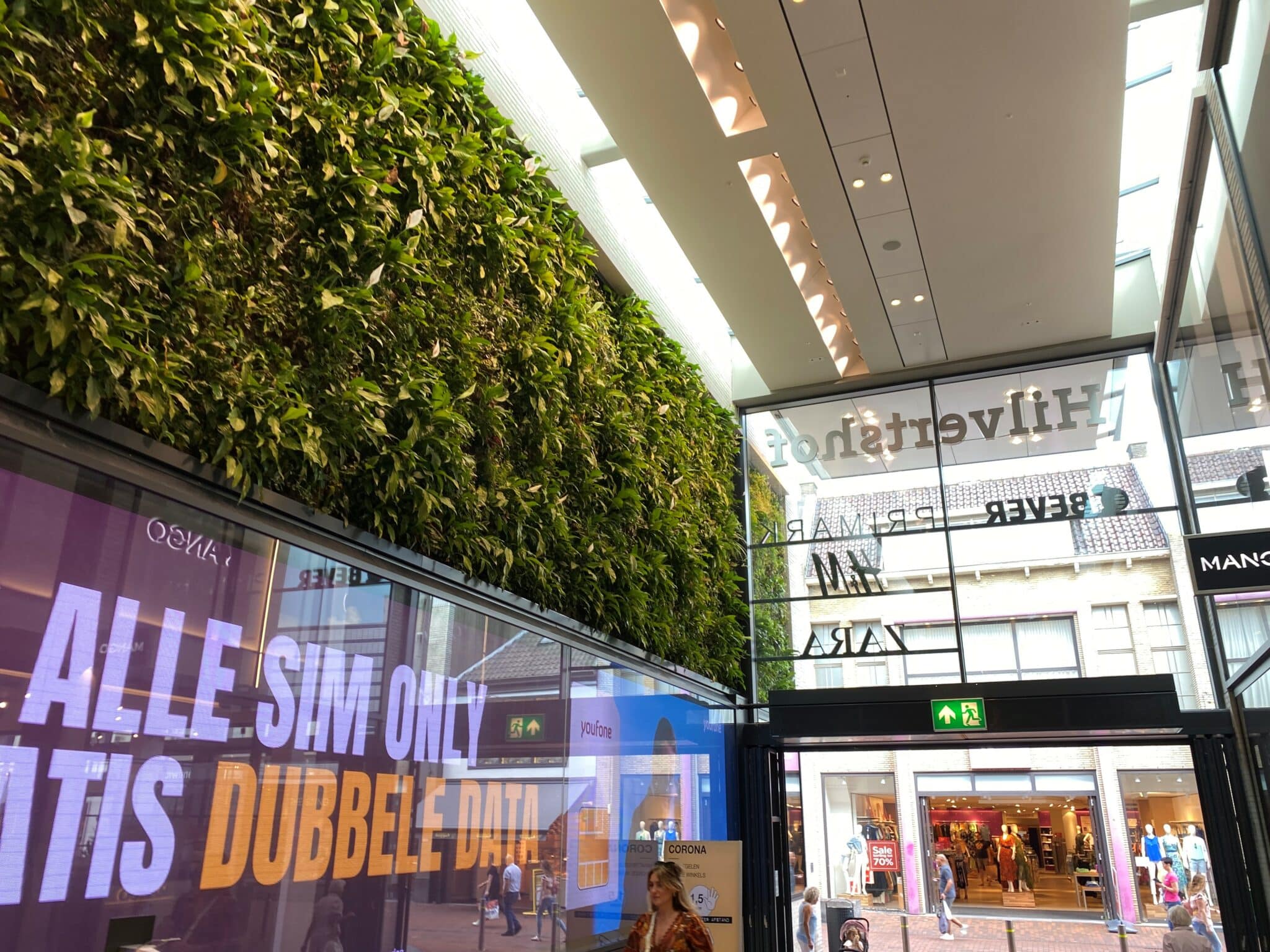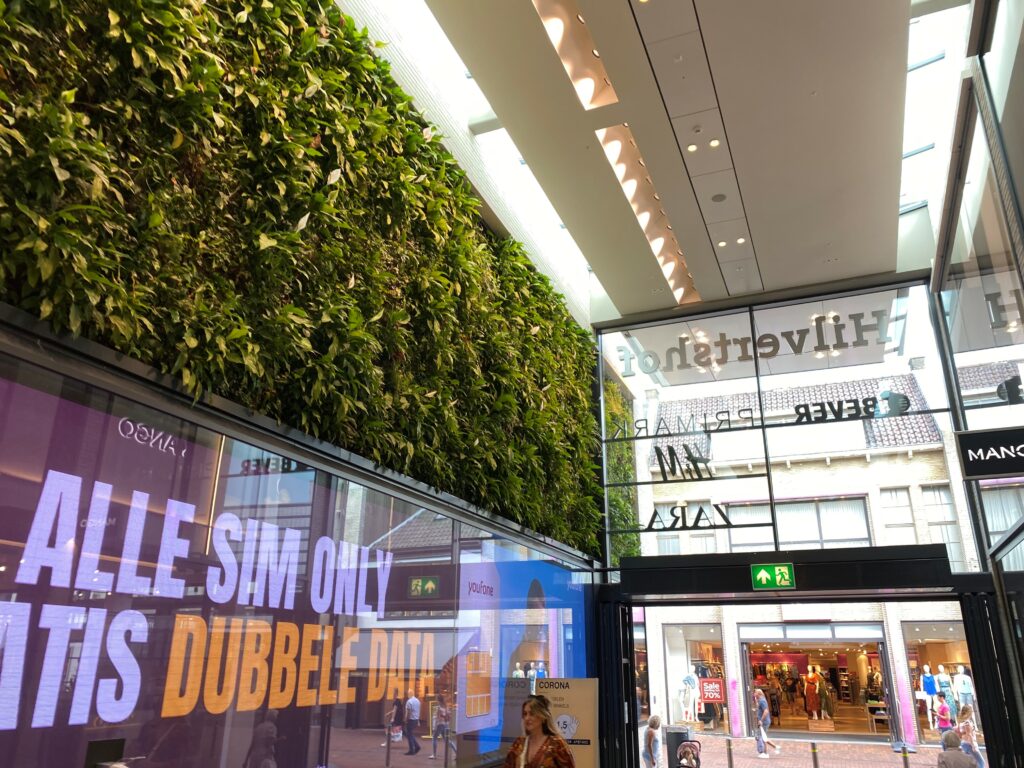 Enhance the shopping experience
With the shift towards online shopping, the ambience in the shopping malls and streets are more important than ever. A Dutch manual "De Levende Openbare Ruimte" states that green shopping areas are perceived as better, safer and cleaner. One is more likely to spend extra time in a green environment. Which affects your shopping behavior. Research has shown that greenery in and near shops therefore leads to 12% more turnover. A strategic move for shop owners and investors to gain commercial advantage from this.
How to implement green in- and- around shops and shopping malls
To create a green environment it's not necessarily necessary to plant trees and shrubs. Shopping areas are often densely built-up and there is little to no room for larger plants. Likewise, you don't want greening in storers at the expense of the display space for sales items. We offer the perfect solution for this: the vertical green wall. To show what this can look like, we have listed a number of practical examples of green shops and shopping areas.
1. Riverside mall hackensack, NJ
This luxurious green living wall with eye-catching plants of 800 square feet is installed in the Riverside shopping mall in Hackensack. The green wall gives an overall luxury appearance. Shopping malls tend to be very noisy and loud, this living wall reduces the ambient sounds and creates a pleasant and green indoor environment. Moreover, a living green wall reduces the ambient temperature, which means that less air conditioning is required.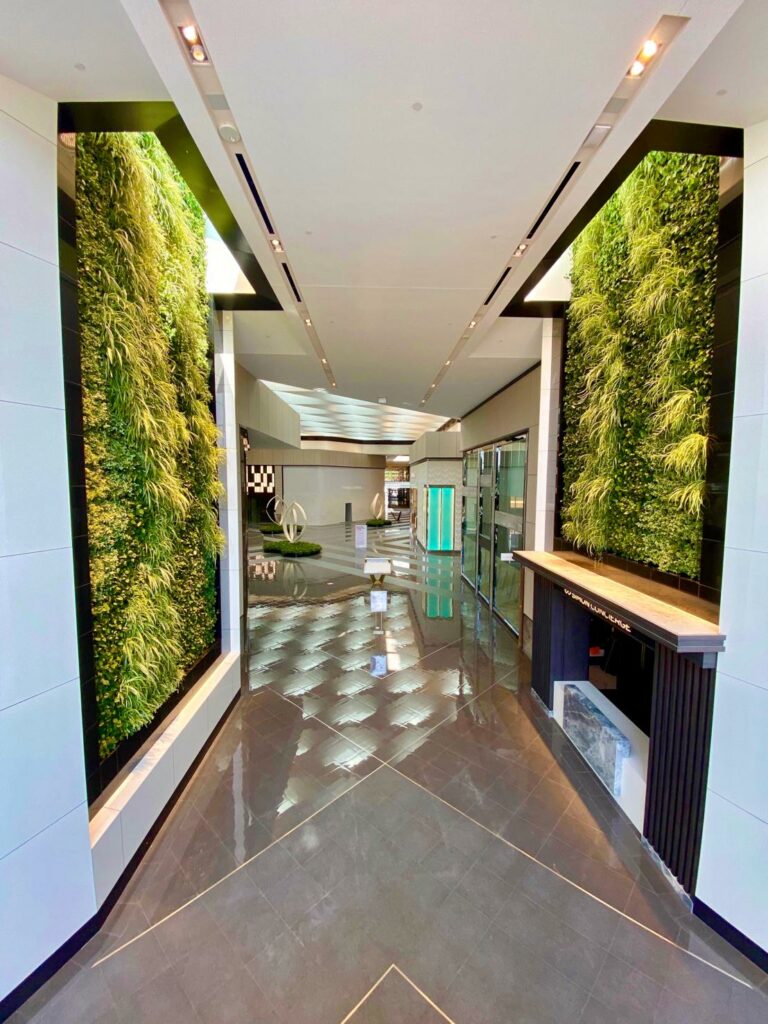 2. Sport society mall, Dubai
A beautiful living green wall is realised in the world largest Sport Mall of the world! The Sport Society Mall is located in Dubai. This is a new and unique concept, combined a retail and sports destination, which will be a one-stop shopping destination for sports goods. The mall contributes to the city's sports and healthy lifestyle, a vertical green wall fits perfectly into this unique concept. The living wall is realised in the restaurants area, a perfect place, to sit back, relax and enjoy the calmness that the green wall offers.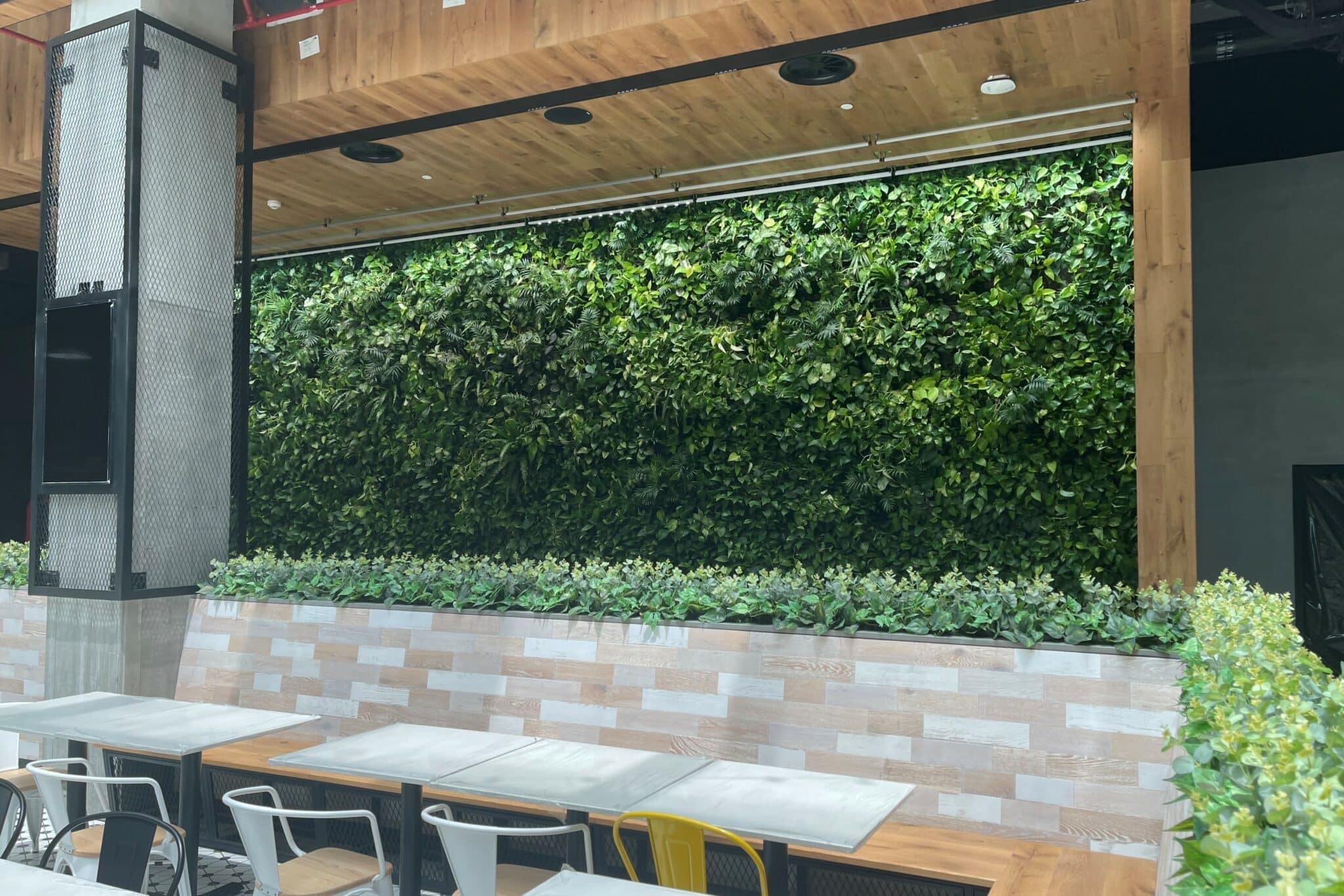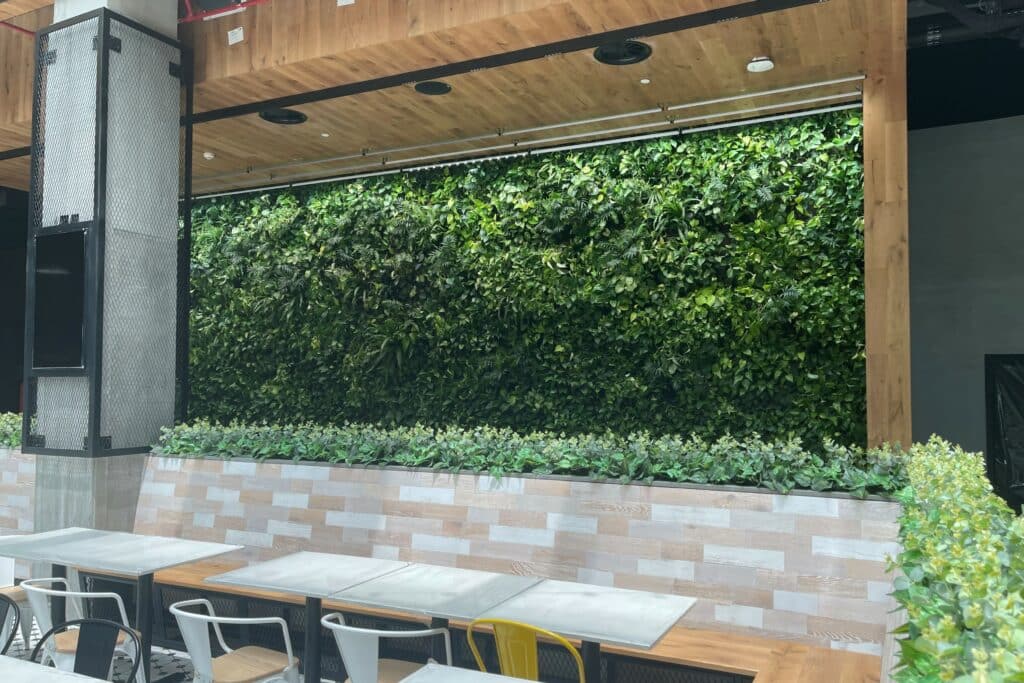 3. Tysons galleria mclean, VA
When the luxurious shopping mall underwent renovations, it was decided to brighten up the entrance of a somewhat darker corner. The building façade was given an upgrade by the Whiting Turner Contracting Company and general contractor of this project. The high-end industrial finish with steel and stone has been softened by the appearance of the living wall in between, which also increases the environmental value of the building. The living wall creates a welcoming entrance.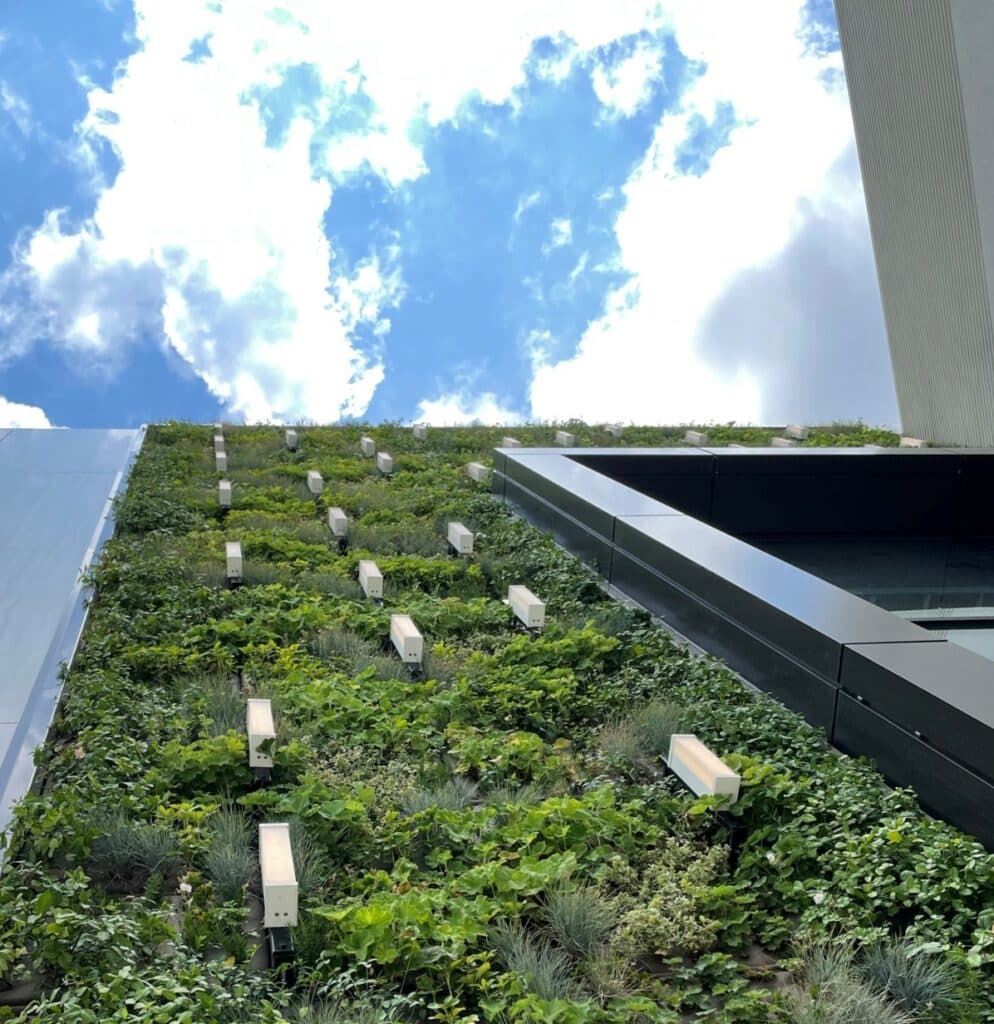 4. Nieuwe haagse passage, den hague (The Netherlands)
This eye-catcher living wall is located in the city center of Den Hague. It's called the 'Haagse Passage' with more than 3448 square feet retail space, where the connection with nature, also known as biophilic design comes in its own beauty. One of the requirements for the design that is should be a light and open environment. The addition of the green living wall ensures that the outside feeling is literally brought inside. The round shaped windows, fit perfectly into this custom-made plant wall.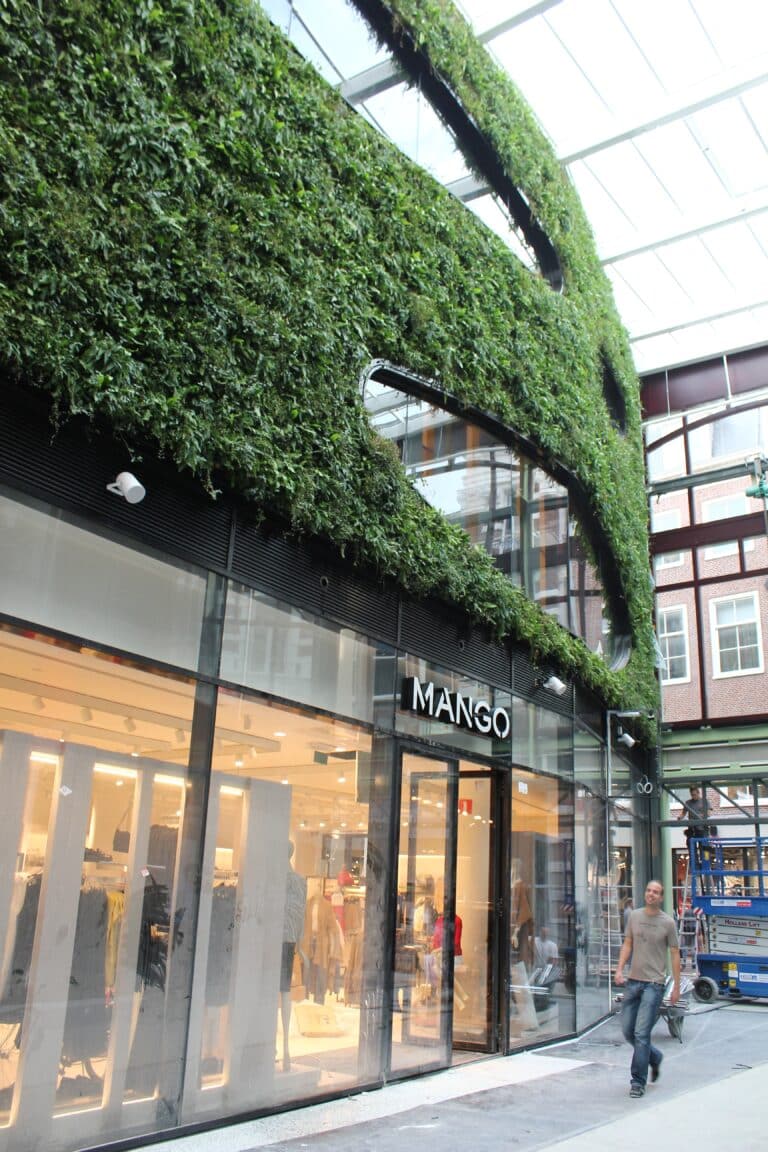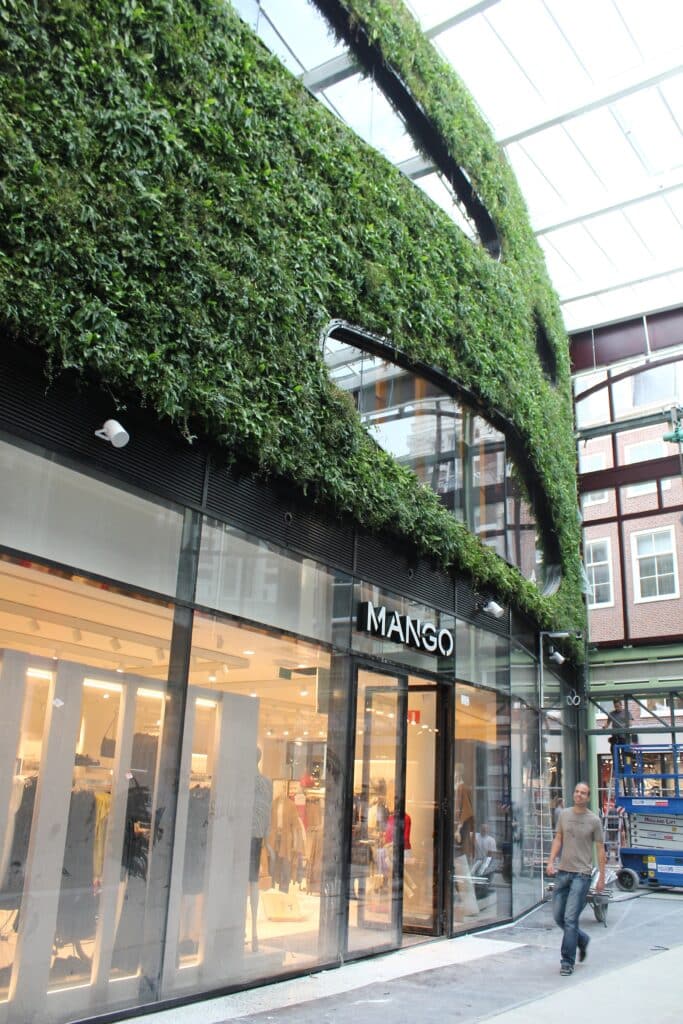 shopping areas as part of climate-adaptive cities
Cities face a major challenge when it comes to climate adaptation. Think of floods, extreme heat and poor air quality. Therefore, sustainability is a necessity. We, at Sempergreen are familiar with the statement, 'tile out, plant in', this is a national Dutch Campaign to convert the grey, tile areas into green areas. Do you know that you contribute directly to less floodings, when you implement green instant of paved surfaces. A paved surface does not absorb water and guarantees that everything ends up in the sewer. With planted soil, the rainwater goes directly into the ground, which relieves the sewer. In addition, a green environment lowers the ambient temperature and plants absorb and reflect sunlight. Green shopping areas are therefore a direct solution against heat stress in the city. Plants trees, and shrubs also filter particulate matter and CO2 from the air, which they convert back into oxygen. This will significantly improve the air quality in cities. This give more than enough reasons for the use of more greenery in shopping areas.
We want to see many more green shops, shopping streets and shopping centers. At Sempergreen we are happy to advise you on what we can do for you. Eliminate grey and implement green!