Nice to meet you
During their stay in America, our Dutch colleagues asked Oscar Warmerdam, Richard Hoek, Dick Bernauer and Joep van Vilsteren to tell you, in their own words, about the history of Sempergreen USA and their experiences working for the company.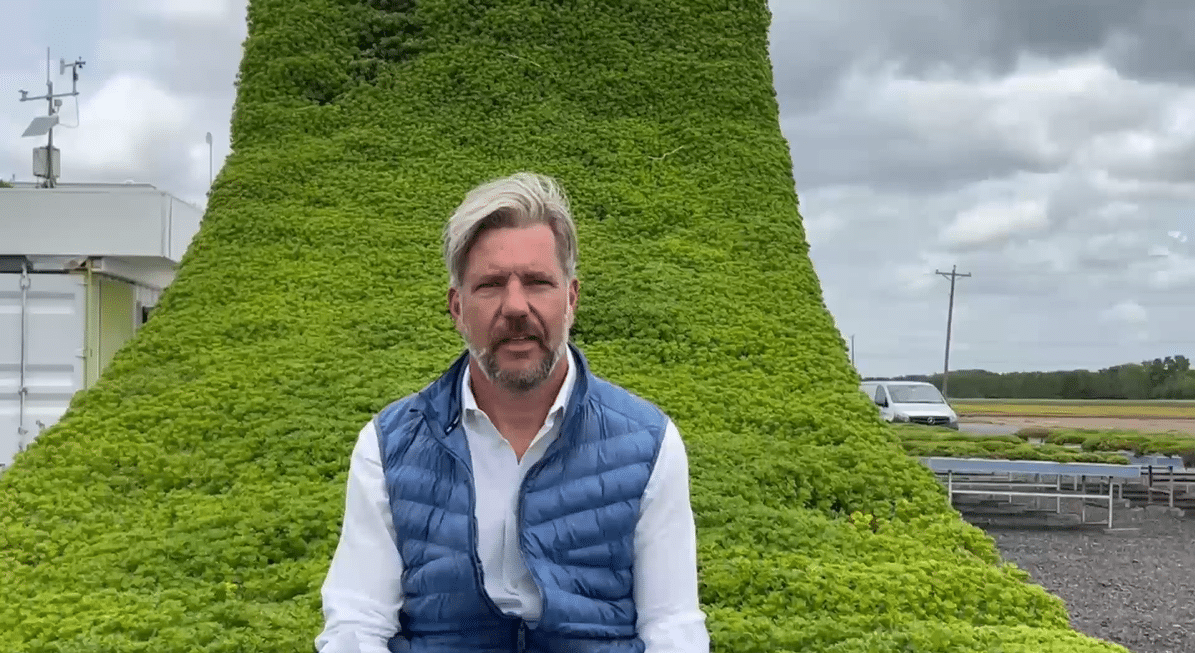 Oscar Warmerdam, CEO of Sempergreen USA
Oscar Warmerdam stands at the foundation of Sempergreen USA. That is actually quite remarkable, as his first thoughts about green roofs were not directly positive. A trade show visit changed his mind however, and this turned out to be the start of a successful business.


Oscar: "I'm a proud member of the Sempergreen family since 2008. It has been an extremely interesting 15 years. We actually started in 2003 as a water plant nursery, copying European success in aquatics, brought it over to the US and did quite well. But we didn't like the seasonality of that particular crop and were looking for a product to fill that gap."
Overwhelmed by the interest in sustainable green roofs

"So, imagine this; in 2007 somebody from the Netherlands (Corné van Garderen), contacted us through the Dutch embassy, looking for a grower in the United States that can grow green roofs. The first time I heard that, I thought "No way!". I was thinking about Birkenstocks and tree huggers, "that is not my cup of tea". But then Corné and I went to a green roof trade show about six months later. It was a sustainability show and it was overwhelmed with interest and visitors. They ran out of food by eleven o'clock and there were big, long lines for every green roof trade show booth. I was completely wrong about it being a tree hugger industry. That's what made us decide to go into green roofs to fill the seasonal gap, as it has a twelve-month production and shipping cycle. 7 years ago, we discontinued the water plants, and we are focused 100% on green roofs and living walls ever since," according Oscar.
Different circumstances require a new approach to the production process
Considering that the manufacturing procedures in Europe were already well-established, it appeared reasonable to implement the same approach in America. However, Oscar and his team encountered some issues when attempting to implement this practice.

Oscar explains: "We started with a copy paste of the European way of doing things with green roofs, and it turned out to be a little more complicated in the States. The weather is dramatically different, it is hotter, the humidity is a lot higher, and the plants are not as happy compared to a European climate. But nevertheless, after a number of years we figured out how to grow these things. We now have nurseries in three different locations, and we are producing approximately 100 acres of Sedum plants a year."
A Living Green Wall, also known as a green facade or vertical garden, is a type of structure that incorporates live plants and vegetation into a wall or other vertical surface. These walls are designed to provide several environmental and aesthetic benefits, such as improving air quality, reducing noise pollution, and enhancing the visual appeal of the surrounding space.
Dick Bernauer, partner and national sales director Sempergreen North America
Another colleague who has been around since the start of Sempergreen USA is Dick Bernauer, partner and national sales director Sempergreen North America. Over the years he has seen a lot of clients and projects and has a lot of memories to draw from.

Dick: "I just celebrated my 15th anniversary with the company, we have a long history of good stories, struggling stories, funny stories… It's been an absolute blast to be part of this team and helping to make the world, North America, a greener place."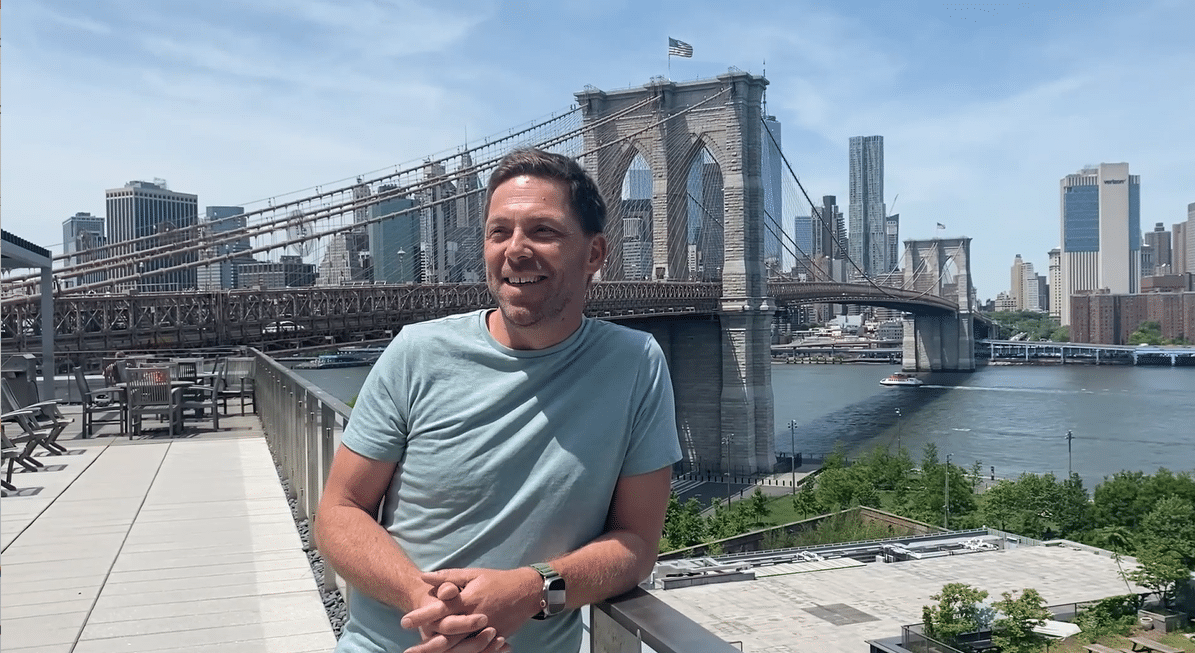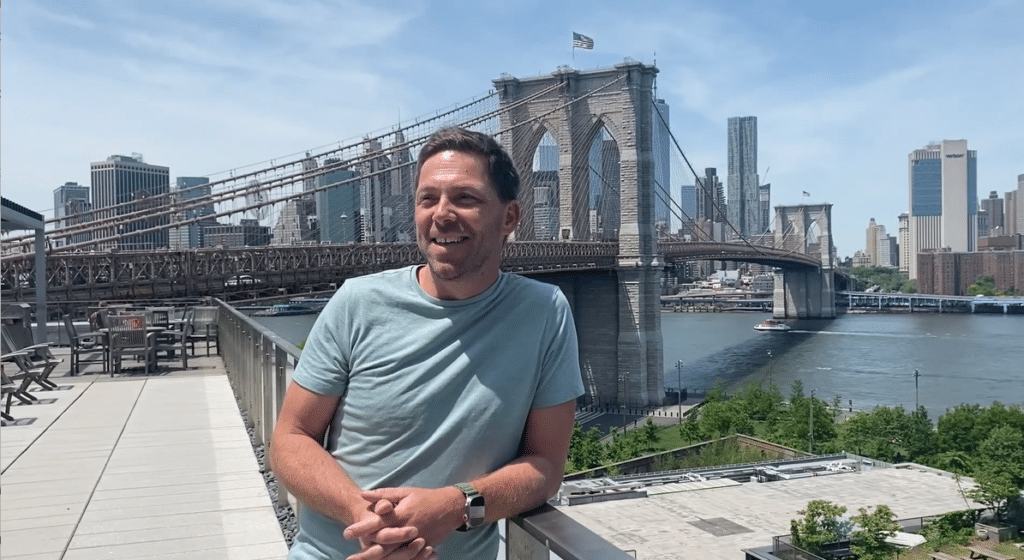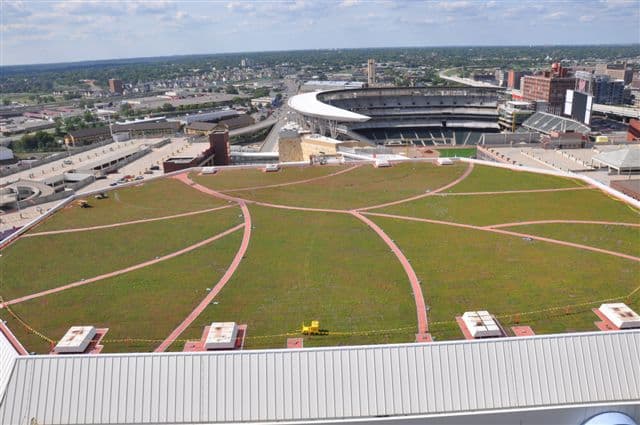 The first big green roof project
The sales success of green roofs did not come naturally. Initially, Sempergreen's experience regarding green roofs and living walls in Europe didn't carry much weight in North America. To gain traction there, Dick's team needed to achieve one big hit.

Dick: "Actually, I can remember the first big project that we landed. It was the Target Center in Minneapolis, a big basketball stadium. We got the order, so Oscar, Richard and I were celebrating, and then about half an hour later we were told that we didn't have the project. But we had already celebrated anyway, so we had a good night. Probably a week or two later we got [the project] back again, so we celebrated again!"
And they had every reason to; it was an about 123.000 sq2 green roof on a very light weight existing roof construction on top of the stadium. From then on, the project resumé snowballed in North America, resulting in a huge number of projects since.
Corné van Garderen, CEO Sempergreen Group
15 years ago, Corné van Garderen, CEO of Sempergreen, already had great success with the growing and selling of green roofs & living walls in Europe. He noticed that the European market was ready to make the construction industry greener and more sustainable. The awareness of climate change began to take shape. It seemed a logical step to also sell his sustainable green products in the United States of America. The most difficult challenge turned out to be finding the right partner, who could set up a successful nursery in America. Then, Corné came into contact with Oscar Warmerdam and Richard Hoek, and the rest is history.

Corné: "During the summer of 2007 we had a lot of phone calls together. Richard and Oscar had a lot of questions and made calculations to see if it was worth it to start up Sempergreen in the USA. In October we checked out the land to see if it was okay to grow there. Finally, in the beginning of 2008 we started everything up."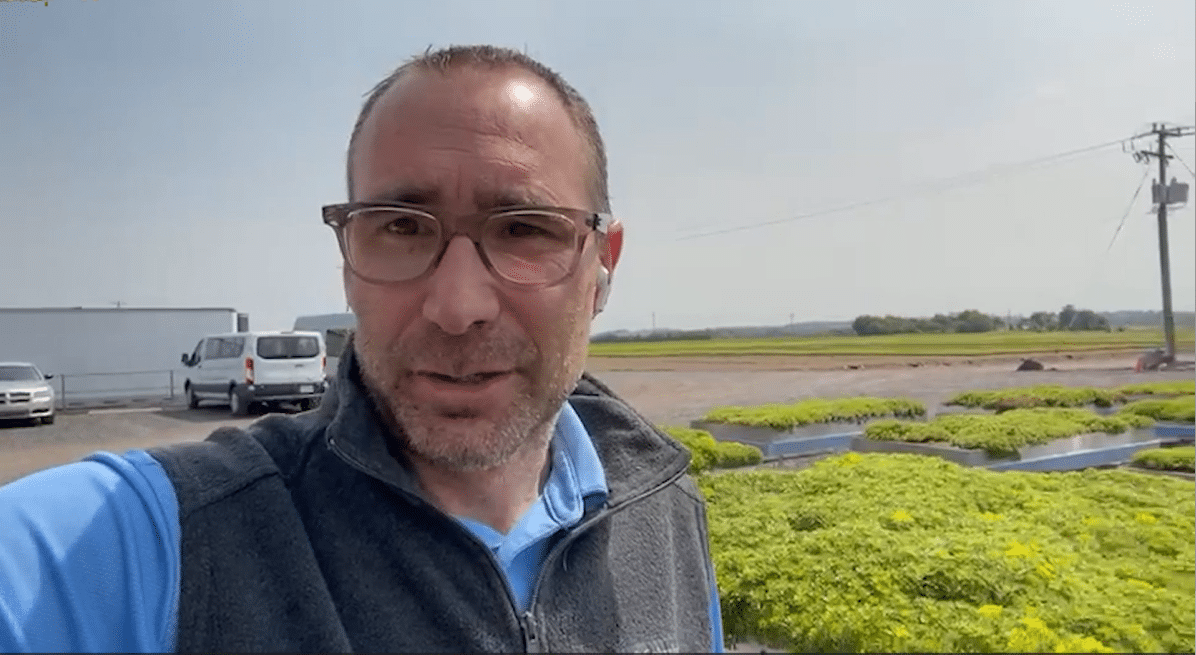 Richard Hoek, partner-operations manager USA
Richard "Rich" Hoek, has practically been working with the organization since day one. As Operations manager he knows all about the growing process and the Sempergreen nurseries in the USA and Canada.

"At our growing facility in Culpeper, Virginia, we have around 135 acres of space to grow Sedum blankets and 10 hoop houses for green wall production and storage. We also have facilities in British Columbia and Ontario, Canada. Combined these two facilities have about the same capacity as the Culpeper facility."
Testing to create functional green roofs
"At Culpeper, we built a test lab to test roof systems and to develop our Purple-Roof system . The Purple-Roof concept combines water detention and green roof functionalities, providing a light-weight and low-cost storm water management tool."
Joep van Vilsteren, Director of Sempergreen Services USA
As the organization progressed from being a cultivator to a provider of comprehensive solutions, the maintenance team has become an integral component of Sempergreen USA. These maintenance operations are managed by Sempergreen Services, which is also responsible for supplying green solutions throughout the United States. Their extensive experience has made them a proficient team in delivering top-notch and intricate living walls, as well as effectively restoring green roofs to their optimal condition. Joep van Vilsteren serves as the director of Sempergreen Services and still takes pride in one of his first projects.

Joep: "7 years ago, the week that I started at Sempergreen, Oscar took me to my first job site at Westlight Condos. 7 years later, after the great care of the maintenance team of Sempergreen Services, this is one of our most beautiful walls here in Washington DC. Sempergreen Services started doing green roof maintenance about 2 to 3 years in. We began maintaining living walls, starting with one or maybe two a year. And now we are still doing green roof maintenance but also installing about 10 to 15 living walls throughout the country, every year."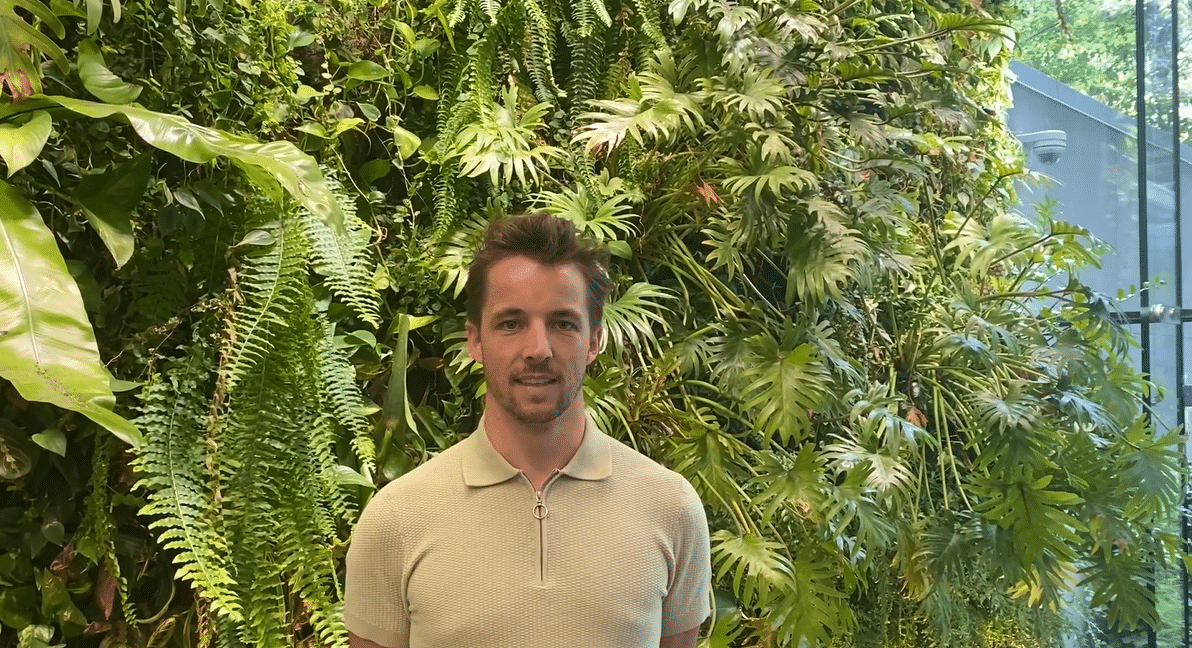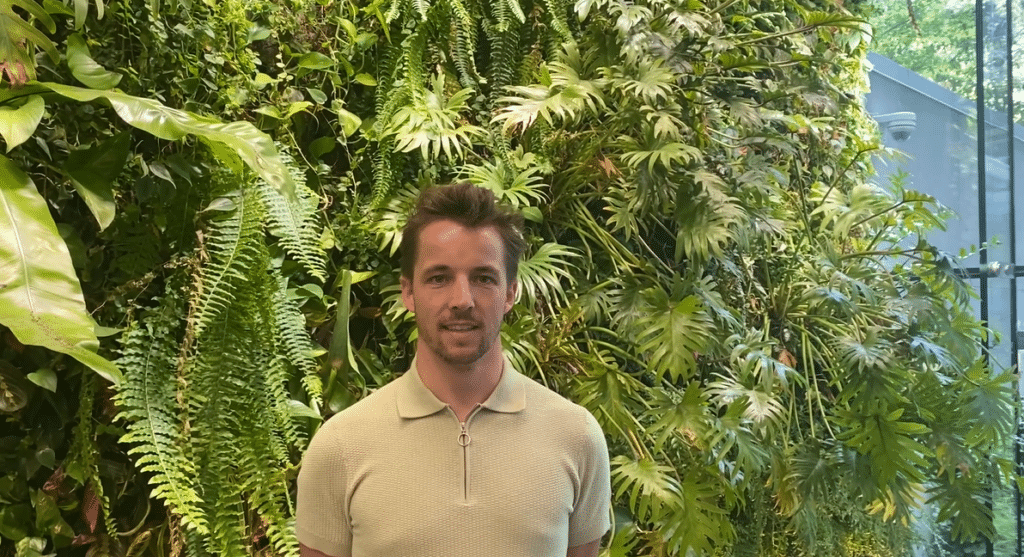 What about the future?
This 15-year partner anniversary has been a great occasion to celebrate all the highlights of the past. It is also a perfect moment to look ahead to the future of Sempergreen USA. We are very proud of all the projects that we've realized in the past and the important lessons we've learnt in the growing North-American market.

Richard adds: "With these in mind we'll be focusing more on green roofs with dual functionalities, such as the stormwater management tool Purple-Roof. This way we won't only make the world greener, but additionally increase our customer's ROI."
The same goes for our SemperGreenwalls:
"With green walls being such a hot commodity nowadays, it is important that lobbies and outdoor building facades stand out in the market. We hope to do this for many more developers throughout the US in the upcoming years," explains Joep. Living walls increase the building value by their luxurious appearance and gives visitors of both office and apartment buildings a lasting impression.
We are also looking forward to keeping our partnership with Sempergreen Group strong and long lasting. Let's go for another 15 years!
Corné agrees: "I'm very happy with our partnership with Sempergreen USA and I really hope we can continue working, having fun and making the world greener together. I am excited about the future. Together we can do this!"
Celebrating a 15-Year Partnership in photos