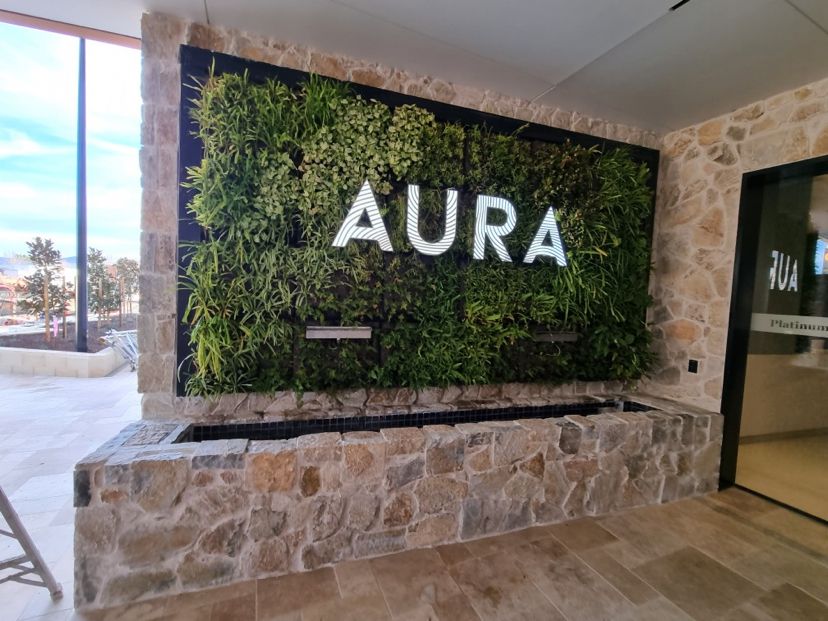 AURA
AURA, a premier retirement project of Livewell Communities, focuses on the comfort and happiness of its residents. It offers resort-style living, with all the activities and services residents may need to relax and enjoy life. The facility features a pool area, cinemas, restaurants, a library and many other activity rooms. Sempergreen installed a 10m2 vertical green wall to create a welcoming atmosphere for residents and visitors to the apartment complex.
Plant wall for a healthier life
The lifestyle centre is focused on health and well-being. Livewell Communities is aware of the benefits of incorporating greenery in living spaces, especially the relaxing and stress-relieving effect that plants have on people. This is the reason why AURA chose to install the SemperGreenwall, a vertical plant wall strategically placed at the entrance of the centre. The lush living wall – complete with AURA logo – creates a luxurious entryway to the building, perfectly reflecting the values and image of the lifestyle centre.
The SemperGreenwall vertical garden is long lasting and is low in maintenance due to the incorporated smart irrigation system.
Developer: Jurkovic Group | Architect: AD Architects | Installer: Sempergreen Australia